This short post is meant to provide you with actionable data so you – or your client- can take massive action, like right f#<k1n5 now.
It's part of the 100 Days of Digital Marketing Help series. Most of the data comes from Death of a Wantrepreneur, from October 9th to the morning of October 12th.
Let's dive right in: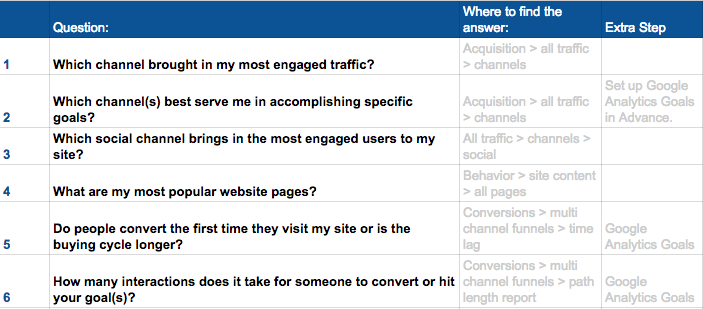 Which channel brought in my most engaged traffic?
Take a look at some of the information you can immediately extract without adding any segments, goals, etc.
Without making any adjustments, you can also see:
• New Users
• Pages/Session
• Avg Session Duration
• Bounce Rate
Each of these metrics can tell you volumes about your web traffic.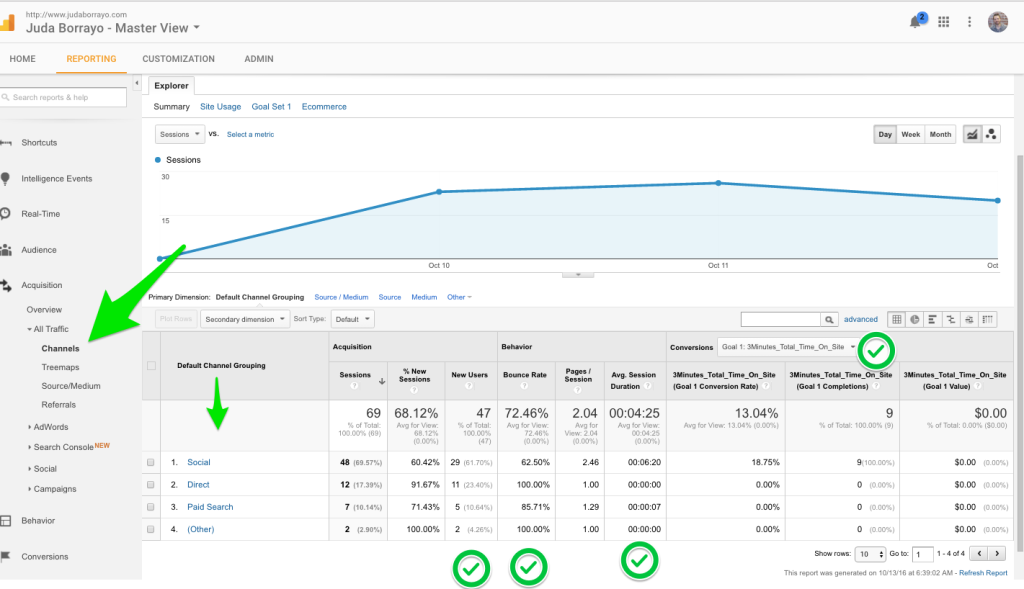 Which social channel brings in the most engaged users to my site?
Simple: Look at the exact same report as the last one and click "social."

What are my most popular website pages?
This isn't a vanity metric. Knowing which website pages create the most leads/readers/viewers/buyers/watchers can be epic as part of your content strategy.
And the magicians at Google make it so easy to find this that if you don't fire up your browser to look at it, well…you're procrastinating and dreams become manifest when you are intentional with your time and focus.
Do people convert the first time they visit my site or is the cycle longer?
Here is a simple example, based on Death of Wantrepreneur stats for 4 days: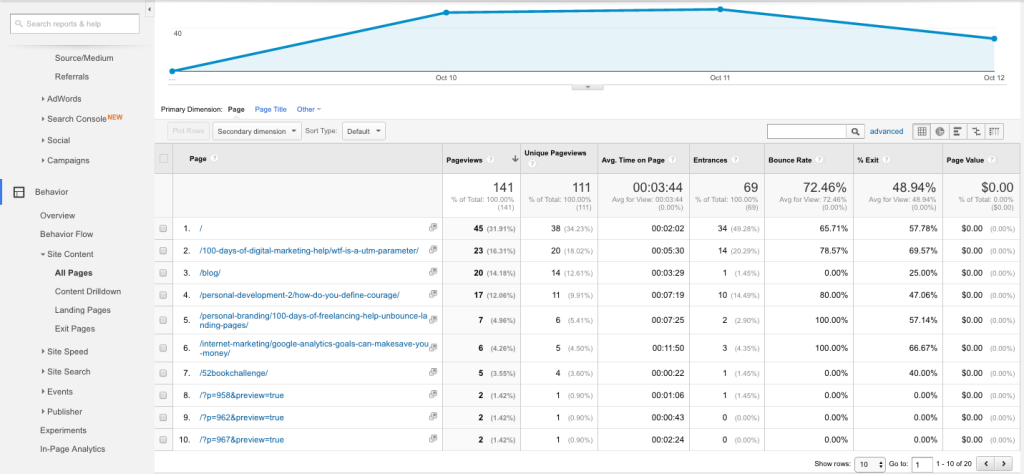 Use the time lag report together with Google Analytics goals to see how long it typically takes site visitors to accomplish a goal you care about.
In the above example, I can see that there were three occurrences where someone spent three minutes or more on Death of a Wantrepreneur — and they happened on their first day seeing the site!
I can also see that four conversions occurred within 12 – 30 days after someone first interacted with my site.
Think about the possibilities! Do you run a business that connects dirt bike enthusiasts to a brand new, state of the art bike? Cool. Send them relevant, top performing articles before you ask for the sale.
You can do that by using paid media- ADs- with Facebook, Twitter, Instagram, Adwords, etc.
Depending on your goals and strategy.
How many interactions does it take for someone to convert or perform one of your goal(s)?
When Rihanna comes to your site, does she immediately convert (or hit one of your goals?) Was she good on her own, that's the way it was?
The answer to the first question may depend on:
How expensive your product is to your prospect.
Perceived quality of your product.
A $10 dollar book has a much shorter buying cycle than a $2,000 informational product. One takes a lot more trust and interaction.
The level of awareness of your target market.
How easy it is for them to take an action you want them to take (buy / read / download / register / etc.)
But once you know – and have Google Analytics goals setup- you're able to leverage the Path Length report to see how many touch points the average prospect needs.
What About the Rest of the Massive Iceberg of Data?
We have only covered the tip of the analytics iceberg. You'll find tons of sites online covering Analytics in depth. Here are three I recommend.
—
Thanks for reading. If you want to share how you use analytics to track your website and make actionable decisions, leave a comment below. Or let us know what awesome website/brand you're working on. Maybe you'll get some new data to look at 🙂
Happy creating.
Comments
comments